Ellensburg parrot soars to popularity on Facebook
Posted:
Updated: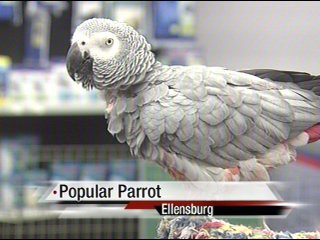 ELLENSBURG, Wash. -- A local parrot, yes parrot, soars to popularity on Facebook and raises money for the animal shelter at the same time.
Perched a-top a pillar of popularity sits buddy, she's a permanent fixture at Ellensburg Pet Center.
"Stopping by Buddy's spot is sort of what you do on the way back to the cat or dog food, see what Buddy's eating, see what dance Buddy's doing today. She's just kind of the focal point everybody just loves her," said Debbie Vosburgh, Ellensburg Pet Center resident.
So when the owners created a Facebook page it just made sense that Buddy would be the focal point. But, they soared with the idea turning social media into charity.
"And we decided if we can get to 1,000 friends by May 24th which is our anniversary, then we were going to donate $200 to the local animal shelter," said Randy Wheeler, owner, Ellensburg Pet Center.
They reached that goal almost a month early and the local newspaper added $100 to the donation. Buddy's Facebook popularity is no squawking matter, her friendship number keeps climbing and her followers are loyal.
You may have seen on Buddy's Facebook page that she's recently single, Wheeler said she has a type.
"Tall men and hats, when the rodeo comes to town she loves that, she loves those guys," said Wheeler.
People love Buddy back, with friends from Central Washington to Ireland and Sweden. Buddy even comments but, where her sassiness comes from no one is sure.
"And I've been trying to figure out who is doing Buddy's typing for her and nobody will fess-up," said Vosburgh.
If you'd like to friend Buddy look her up on Facebook, first name Buddy, last name Says. Here's the link to her page: http://www.facebook.com/#!/profile.php?id=100000814389191&ref=ts