Lee Peterson Motors buys GMC Truck line
Posted:
Updated: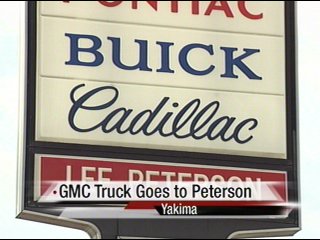 YAKIMA--Two of Yakima's biggest names in the automotive industry make a deal.
Bob Hall and Lee Peterson announced Friday that the GMC Truck line would be transferred from Bob Hall Auto Dealerships to Lee Peterson Motors.
General Motors told Hall in 2009 the company would not renew his GMC dealership license at the end of this year. Hall appealed the ruling and has since worked to keep GMC in Yakima.
Now Peterson will buy the GMC line from Hall, a move negotiated and approved by General Motors.
Hall still has his Sunfair Chevrolet dealership, and says selling GMC doesn't mean layoffs or less service: Hall's technicians are trained to work on all General Motors vehicles.
Peterson said adding a new line of trucks means he will be hiring.
"We're going to have some employment opportunities," Peterson said. "We're going to have to be ramping up with additional capacity for services and sales, and we're excited to do that."
The dealers would not say how much money changed hands.
Peterson expects to have GMC fully up and running by August with 2011 models.
With the sale, General Motors also let Peterson keep his Cadillac dealership, which was scheduled to shut down in October as part of GM's plan to limit Cadillac dealerships to metropolitan areas.
The transfer leaves Hall with Honda, Mazda and Chevrolet dealerships, and Peterson with have GMC, Buick and Cadillac lines.