Yakima development spreading in all directions
Posted:
Updated: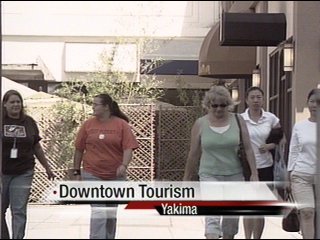 YAKIMA--Development is key to growing cities, and Yakima hopes to be no exception. KNDO took a look into what lies ahead.
This may be one of the most exciting times in Yakima. The eyesore and fire threat posed by the old Boise Cascade site is gone and developers hope it becomes the crown jewel of downtown, and also boosts growth east and west of town.
"We've never boomed but we never bust either," Yakima City Planner Bruce Benson said. "We are cyclical, but everything else is too."
Yakima wants to break that cycle and explode. Developers ready the largest residential plan since the city's founding in 1885. Washington Heights will add nearly 250 homes.
"Development's going to be strong, it continues to be," realtor Bill Moultray said. "Just in the first few months of this year we wrote more than we did all of last year - commercially."
Moultray owns Orchards Shopping Center in West Valley, which keeps growing. Last week a new retailer signed a lease.
Next up, hopefully a large, open property in Terrace Heights.
Moultray said several grocery stores like the space, but studies show there's not enough people living nearby, so the development is on hold.
"It will be some type of shopping in the near future," Moultray said. "It's just taking a little extra time."
The old Boise Cascade site could be the jumpstart our entire area needs.
The sexy ideas like a water park or a new baseball stadium may grab the headlines, but those behind the scenes caution Yakima needs a different development to bring people here permanently.
"More industry, more job-oriented type businesses," Moultray said.
"Yet I'm not seeing any industry that would provide that many new jobs," Benson said.
Fortunately with 211 acres at the site, there's plenty of room for work and play.