Heritage University commencement
Posted:
Updated: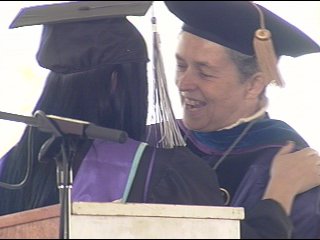 TOPPENISH--It's about time for graduation party season. Students at Heritage University kicked things off Saturday.
A lot of college grads want to get away from home and go somewhere new. But, many Heritage alumni stay in the Yakima Valley and give back as teachers, including one who wants to help students and her family.
Saturday was a bittersweet day for Alma Jimenez-Solis. Her mother, in the middle of a draining battle with cancer that began in her kidney and spread to her lungs and brain, couldn't see Alma get her degree.
Jimenez-Solis knew she wanted to teach before her freshmen year at Heritage even began. Now, she knows she made the right choice.
"Every day [student-teaching] was different and that's what I look forward to," she said. "Even though I'll be teaching the same material, the students will be different; everything will be different."
Many grads are on the same path as Alma. A third of the 303 people who earned degrees Saturday are now ready for careers in education.
Teaching isn't just a job for Heritage University instructors, it's a way of life.
"Our mission is to prepare educators that can go into the field of teaching, that are dedicated to making a difference for all students, and to have a positive impact on their learning," Jim Borst, Dean of Education and Psychology, said.
Many of them, like Alma, will stay nearby and teach the valley's next generation.
"To me, it's very important to start getting teachers here in the Valley who can relate to the students," Jimenez-Solis said. "When I was doing my student teaching I had a lot of students that would come up to me and they [said], 'I'm so glad you're going to be a teacher.'"
Alma has some job offers, but says she's planning to substitute teach for a year first.
She thinks that will give her a clearer idea of what school she'd like to work at, and let her be by her mom's side as she continues the fight of her life.