Sunnyside shooting victim in stable condition at Harborview
Posted:
Updated: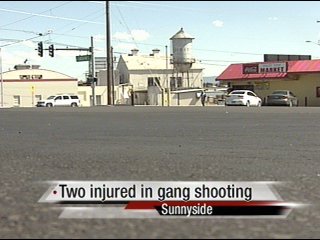 UPDATE: SUNNYSIDE, Wash. -- The man who was shot in Sunnyside on Sunday is now in stable condition at Harborview Medical Center in Seattle.
Police say Daniel Preciado, a 19-year-old from Grandview was shot six times. It happened near Lincoln Avenue in Sunnyside. The incident is gang related and police are looking for an SUV, but are unsure what role the people in the vehicle played in the shooting.
SUNNYSIDE, Wash. -- A 19-year-old Grandview man is fighting for his life after being shot six times.
Sunnyside Police responded to shots fired call at the Valley View Mart on the corner of West Lincoln Avenue and South First Street shortly after 12:30 a.m. Sunday.
When officers arrived, they learned two victims--a 19-year-old Grandview man and a 16-year-old Grandview boy--had already been transported to a local hospital.
The 19-year-old was shot six times. Sunnyside police liaison Charlotte Hinderlider said injuries from two of the gunshots are life-threatening.
Police say this shooting is definitely gang-related.
Police sent KNDO a picture from surveillance footage. They're looking for a four-door Chevrolet Sedan and an SUV, which officers thinks is either a Lincoln Navigator or Ford Explorer.
Hinderlider said police investigation's just getting started.
"There's a lot of information that needs to be obtained," Hinderlider said. "There were people that were witnesses that were brought in for statements. We're looking to identify the drivers of those vehicles as well as the owners."
Hinderlider said police don't know yet if the people in those vehicles are suspects, victims or witnesses.
The 16-year-old boy was shot in the leg. Neither of the victim's names were released.