Developments at Osprey Pointe
Posted:
Updated: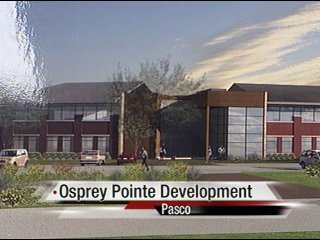 PASCO, Wash. -- Big developments in a new 110 acre waterfront development in Pasco. Port of Pasco leaders say the first building at Osprey Pointe will soon be a reality. The land will be developed into a waterfront business center and will be home to high end office buildings and public waterfront trails.
Port leaders, community members and even Representative Doc Hastings met Monday to talk about the huge development on Ainsworth Street and Oregon Avenue.
The entire park will stretch between Sacajawea Park and Cascade Marina.
At Monday's meeting, leaders focused their attention on the development of a 20,000 square foot building and a five acre public gathering area.
Jim Toomey is the Port of Pasco Executive Director. He said, "the community wants more and better connections to the river. They want more and better connections for their businesses. They want more and better connections for themselves and their families."
"I believe that this will be a spark for other areas here (for) the counties, ports and cities along the river to utilize their access to the river in a similar way." Said Rep. Doc Hastings.
Right now, Port of Pasco leaders say they are in Phase I of the development, but the anchor building should be complete in January 2011.