WSP: More accidents near Blue Bridge in rainy weather
Posted:
Updated: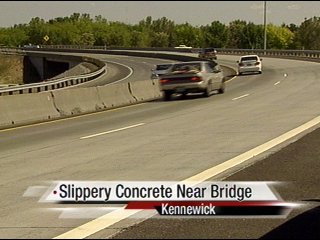 KENNEWICK, Wash.-- Washington State Patrol troopers say there are more accidents near the Blue Bridge on rainy days, than sunny ones. Sergeant Roger Wilbur says, "On the days that we get rain, we see more instances of crashes down there."
KNDU has received several calls questioning the safety of the new configuration and road surface around the south end of the bridge after Monday's semi-truck accident. Troopers say they've responded to 67 crashes in the area so far this year; 11 in one day alone when the road was wet. Most of those wrecks have been on Highway 395, south of the bridge. Troopers say most are a combination of the slick new concrete road and drivers not slowing down. Sgt. Wilbur says people driving "10-15 over the speed limit, combined with the roadway surface, combined with the oils and things on the road, and you have a recipe there for people to start crashing, which is what we've been seeing."
Many people who have called KNDU were concerned about the surface of the roadway. It's concrete, not pavement, like asphalt or black top. Sgt. Wilbur says, "I do believe that concrete gets more slippery than we're seeing on the pavement that used to be in that area."
In January, the Department of Transportation said the concrete didn't meet traction requirements and put grooves in the surface. DOT leaders say they are discussing other possible improvements, but haven't given any details.