State Fair Park announces major safety upgrades
Posted:
Updated: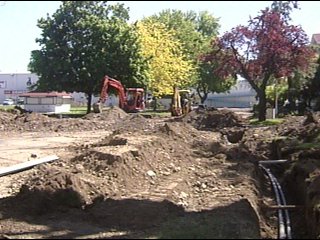 YAKIMA, Wash. -- The sidewalks and grass are torn-up as crews at State Fair Park are working to put unsafe overhead power lines underground.
"And one of the overhead wires carries 17 thousand volts of power and so it's a safety issue also," said Greg Stewart, general manager, State Fair Park.
Five miles of electrical cable is being put underground and 70 new light poles will be installed. The price of the upgrades is 2.5 million dollars. It's funded by a grant from the Economic Development Association, the Department of Agriculture and State Fair Park Association.
"This is really not costing the residents of Yakima County any money and we're pleased to say that, but what it will do is provide us with a safer and better lit fairgrounds for the roughly 800,000 people that visit our fairgrounds throughout the year," said Stewart.
They're also recycling, as the dirt is dug up, it'll be sifted through then the rocks will be chipped up to create new pavement. Digging-up fairgrounds that are over 100 years old, leads to unique finds like an entire septic tank, not on any blueprints.
"Ya, we're working on old fairgrounds and we don't know what's in the ground, but we're finding it...lot's of irrigation lines, old power lines, phone lines, sewer lines," said Max Hallberg, general manager, Northeast Electric.
Once the wiring is upgraded and underground crews will repair 80,000 square feet of asphalt. Stewart expects the project to wrap by mid-August, just in time to shine light on another state fair season.