Vehicle versus bike accidents increase this time of year
Posted:
Updated: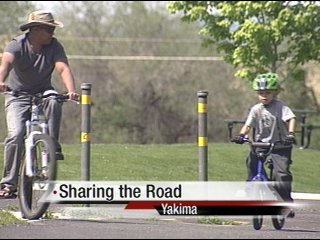 YAKIMA, Wash. -- The sun is out and so are people on bikes and motorcycles, which often means an increase in collisions. Sometimes the driver of a vehicle is at fault, but other times it's people on bikes not following the law.
Tuesday evening cyclist turned in front of a car on Nob Hill Boulevard and 24th Avenue.
"Cyclist are required to follow the same rules of the road as a motorist and when they don't regard the law then sometimes we have those accidents. They'll cut across traffic, they'll not obey the traffic signals, they'll ride down the sidewalk and shoot across the crosswalk," said Lt. Mike Merryman, Yakima Police Department.
Merryman said vehicle drivers also need to watch out for the increased numbers of bikes and motorcycles on the road. Fortunately, no one was seriously injured in the accident on Nob Hill, but that's not always the case.
"Even a small fall can be really devastating to a person at low speeds if they don't have a helmet on," said Reghan Denny, manager, Valley Cycling and Fitness.
Bicyclists are not required by law to wear a helmet in the City of Yakima. On the other hand, motorcyclists are required by state law to wear a certified helmet.
"But, bottom line is that if there is an accident and as an operator of a bicycle you violated a traffic law the accident would be your fault," said Merryman.
The most common citations given to cyclists by YPD are riding the wrong way and failure to yield. The fine for either is $81.