Sewage leak in Grandview
Posted:
Updated: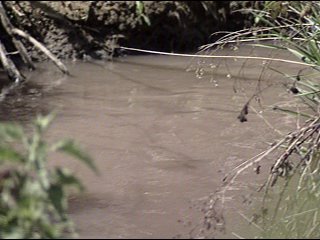 GRANDVIEW--A sewage pipe breaks in Grandview Wednesday morning, leaking hundreds of thousands of gallons of wastewater into the Yakima River.
Staff at Grandview's treatment plant noticed low flow numbers and eventually found a leak in a ravine behind Sandhill Road.
Trees and other vegetation blocked access to the faulty irrigation pipe, keeping crews from accessing and stopping the leak until 2:30 p.m., about four hours after the leak was initially discovered.
Interim City Administrator Cus Ortega estimates 250,000 to 300,000 gallons of raw sewage went untreated and will eventually make their way to the Yakima River.
Because only irrigation water--and not the water we drink--comes from the Yakima River, Ortega thinks effects on people will be minimal.
"I don't see it affecting the drinking water," Ortega said. "But, if this was the time of year when people are swimming in the Yakima River, I think it would be a worse situation than what it is today."
Ortega said even people with well water should not be overly concerned.
"We're not ponding it, where it's going to saturate the ground to enter the groundwater," Ortega said. "It's entering a water stream which it eventually will get to the Yakima River."
By the time the sewage gets to the Yakima River, Ortega said the untreated water will have been diluted several times.
The Benton-Franklin Health District asks people to stay out of the river and away from irrigation water. The Sunnyside Irrigation District shut down flows to nearby growers to keep untreated water off crops.
Grandview's waste-water treatment plant normally handles about a million gallons of untreated water daily.
The Department of Ecology will examine the site Thursday. The broken pipe should be fixed by Friday.