Grandview works to repair sewage pipes
Posted:
Updated: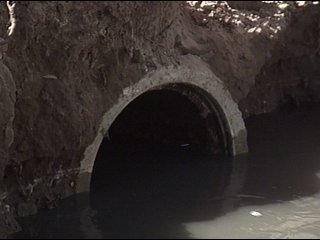 GRANDVIEW--Leaking sewage from a broken main line has been completely contained since Wednesday afternoon, but will the leak have a long-term impact?
Like KNDO told you Wednesday, the sewage leak in Grandview doesn't affect your drinking water. But, 250 to 300,000 gallons of raw sewage may still have an impact on the Lower Valley's environment.
Members of the Department of Ecology visited the stinky site Thursday morning. They're assessing the city's response and any possible lasting damage to the land.
"We were in the lab this morning and took a look at the [sewage] samples," Donna Smith, Water Quality Enforcement, said. "When we know the results of the tests then we'll have a better picture of the potential for environmental damage."
Those results won't be available until next week.
The cost to Grandview is better known. Interim City Administrator Cus Arteaga thinks fixing the problem will cost roughly $30,000.
Fortunately, $50,000 is set aside in the city's budget for unexpected repairs just like these.
"Our water and sewer fund is adequate to handle an emergency like we're dealing with today," Arteaga said.
So that means people in Grandview won't see a rate increase to pay for the cleanup.
Crews worked Thursday morning to connect pipes which will reroute the flow of sewage around the broken line. Once the busted lines are bypassed they'll dry up and crews can replace them.
To get the new parts, city staff had to go to Hermiston and Seattle.
"My plan is to have all my materials in by [Thursday] afternoon with repairs scheduled for early Friday morning," Arteaga said.
Arteaga expects work will be done by Friday afternoon, but if it's not, crews will stay late and even over the weekend to finish the job as fast as possible.