YWCA "breaks down the walls" with new transitional housing project
Posted:
Updated: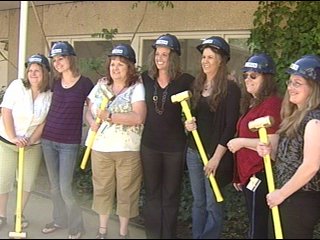 YAKIMA, Wash. -- It's a milestone for local domestic violence advocates, the groundbreaking of Yakima County's first transitional housing project.
"So imagine this space that your standing in is going to transform into a backyard, a backyard for the children that will be living here with their families," said Erin Black, executive director, YWCA.
A cement filled courtyard, turned into a safe haven for children, housing for families escaping domestic violence, that's the vision at Yakima's YWCA. Former Board Member Jennifer Benson called one legislator 45 times to secure funding for the project.
"But, this brings it to fruition, I mean we have the transitional side starting the apartments this will make life so much better for our women and children, so it's a thrill," said Benson.

"So our old shelter served about 29 people and we had to turn away 7-20 families a month," said Black.
But, the newest project is more than a shelter, the transitional housing will have 16 apartments for people working to become independent after leaving a violent home, they can live there for up to two years.
"This will be the first transitional housing in Yakima County that's specific to domestic violence survivors," said Black.

Friday's ground breaking was a little different then traditional gold shovels, they used golden sledge hammers to "break ground" the hammers represent tearing down the walls and barriers that victims of domestic violence face.
The second floor of the building will house a resource center, bringing together all aspects of the YWCA into one location. The project should be completed by June of next year.