Tee shirt causes controversy at PHS
Posted:
Updated: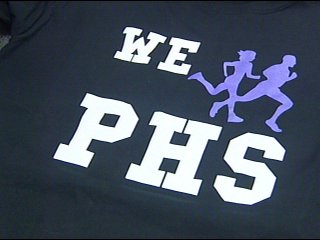 PASCO, Wash. -- Students say it is a harmless tee shirt. Administrators have a different opinion. It is causing controversy at Pasco High.
Dozens of students and parents called the KNDU newsroom Friday, confused over a student-made tee shirt. It says "We run Pasco High. Freshman bow down to us. Sophomores fear us. Juniors want to be us. 'Sen10rs' (Seniors) class of dimes.
It is the "class of dimes" that might be what is confusing. Students say it refers to the Class of 2010. But the term can oftentimes be used in reference to drugs. Sometimes you may hear them referred to as a "dime bag".
Students say the school told them not to wear the shirts.
The student who claims he made the shirts says it was supposed to be a senior project to raise money for charity and was not a drug reference. He never got the approval and says the school met with his parents earlier, concerned about the shirt.
The shirts were sold off campus and when students showed up to school Friday wearing them, they got confused and started asking what's the problem?.
Bryson Newell is a Senior at Pasco High. He said, "It was basically pandemonium from 1st to 7th hour. Kids were really confused on whether they were getting their shirts back, or if they were going to be reimbursed."
In response to the confusion, the school released a statement saying, "Dress is regulated when, in the judgment of school administrators, there is a health or safety hazard, or when the material will be a substantial disruption of the educational process."
The creator of the shirt was emergency expelled, but students say after school they met with the Principal and it appears the problem was resolved. The school district has not called back to confirm.