Saturday is Learn to Fly Day
Posted:
Updated: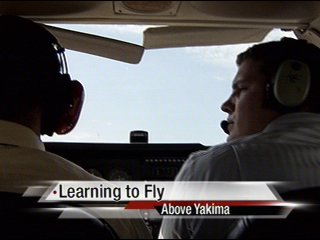 YAKIMA--Ever wanted to be a pilot? This might be the weekend for you. The McCormick Air Center in Yakima is hosting Learn to Fly Day on Saturday. KNDO's Nick Paradise took to the air for the story.
If only my driving instructor could see me now, about to take control of an airplane--kind of. As a preview to Learn to Fly Day, an instructor's taking me for a spin.
Jake Davis has been flying for eight years, since he was a senior in high school. He will graduate from Central Washington University this spring. His dream job is to be a corporate pilot.
We get a rundown of what does what inside the small Cessna, get clearance and head for the runway.
"Anybody get motion sickness at all?" Davis asks KNDO reporter Shawn Chitnis and me.
"I don't think so," I responded. "We should be alright." At least, I hope so. Oh well, too late now. Up we go.
After takeoff, Davis pilots the plane south over Ahtanum Ridge to the Lower Yakima Valley. While over White Swan, he lets me take the controls you actually turn the plane with your feet and use the wheel to tilt the wings and the nose.
I'm doing alright, but the steep turns are tough. Think of when you first learned how to parallel park a car; you must be able to perform the turns to get your pilot's license.
The G's, twisting and turning start to do their work on my stomach. I'm a bit nauseous as Davis pilots the plane over Union Gap and back to the air terminal.
Finally, we're back on solid ground.
We got a little tour of the Lower Yakima Valley, up in the air for about twenty minutes.
I learned it's not too hard to actually control the plane up in the air. It takes a lot of sensitivity to keep the plane steady, it's much more sensitive than a car.
We'll let the pilot be the judge.
"For your first time, you did pretty well," Davis said. "A lot of people get up there, get in the controls for the first time a little hesitant."
Free instructional seminars go from 8:00 a.m. to 1:00 p.m. on Saturday. A half-hour flight is $60.