Dangerous activities at trestle bridge over Naches River
Posted:
Updated: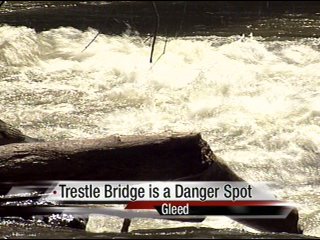 GLEED--It's one of the most popular places on the Naches River, but also one of the most dangerous, where a Tacoma man jumped in Saturday and didn't make it out alive.
Ted Reuter and two friends came to the old railroad trestle bridge above the Naches River Saturday for a fun time, according to Yakima County Sheriff's deputies. But they found tragedy instead.
Around 1:00 p.m., Reuter jumped in the river and was quickly swept away.
Several hours later a military helicopter spotted him but it was too late. He was dead.
Gleed Fire Department Assistant Chief Steve Ingram expects trouble back here.
"People don't seem to recognize the warnings that are out there," Ingram said. "The Sheriff's office continues to put out swift water warnings to people and advise them to stay out of the water during these episodes of increased flow down the river. It seems to fall on deaf ears."
Add alcohol, like police believe Reuter did, and a bad situation can get worse.
Witnesses say Reuter jumped off the bridge into the water below, which Ingram thinks is about a 20-foot drop. But that may not be the worst of it. Firefighters have even got calls about people jumping off the very top of the trestle."
Ingram estimates that's a 60-foot drop. While the river may look deep, it's impossible to know for sure.
"Unknown surfaces that are under the water, those rocks are moving under there all the time, sandbars keep changing," Ingram said. "What they see on Monday may be totally different by Friday."
Now that the weather's nice, people will probably come back here regularly. Lloyd Bennett has lived near the trestle for five years, and says he's called the police on people partying back there regularly.
This is county property and no one's supposed to go back there, but there isn't much to stop anyone. Bennett wants to see the county take action.
"Patrol it a little more, not allow so many people back there," Bennett said. "They don't need to be jumping off these bridges anymore."
The Yakima Greenway's working on an expansion west from 40th Avenue all the way to Naches that will include the trestle bridge.
Ingram hopes that expansion includes finding a way to keep people from jumping off the trestle.