Tri-Cities Raw Foods Club
Posted:
Updated: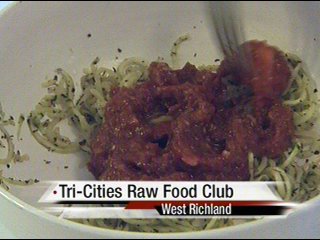 West Richland, WASH - We've all been told to eat more fruits and vegetables. Now one local group is pushing this idea with some creative recipes, including a spaghetti dinner made entirely out of vegetables.
That's right, spaghetti without the pasta. It's just one dish that is made out of entirely raw and uncooked food. Meet Stu and Debbie Bruce of West Richland, who started this diet several years ago and are trying to spread the word through their raw foods club.
"As I aged I began to have a few health problems, particularly arthritis. I couldn't even reach my belt loops to put a belt on three winters ago and today I have no difficulty at all," explains Stu.
Not to mention his lower blood pressure and increased energy.
"All the enzymes are still intact. The vitamins are at their peak and that's what it is about for me, just eating live food," says Debbie.
Debbie's favorite dish is her zucchini spaghetti. Raw zucchini is spiraled into noodles. Then olive oil and spices are added. Next it's time to make the marinara sauce, which is also made using what they call "live ingredients. It's a raw meal which brings healthy changes.
"The weight came down. When the weight came down I could breath better, I was more active. The more active I got, the more I did and the better I felt. I just have a pretty healthy life right now," says Stu.
Most of Stu's and Debbie's diet is made up of raw fruits, vegetables and nuts. However, they are just asking people to add a few servings to their diet at a time.
"Your body gets what it needs and fixes itself," explains Stu.
The Bruce's also say this is the perfect time of year to buy raw foods as local farmer's markets get underway.
To learn more about recipes and meeting information you can head to the "Tri-Cities Raw Foods" Facebook page by clicking here.