Increased visitors means more parking concerns in Yakima
Posted:
Updated: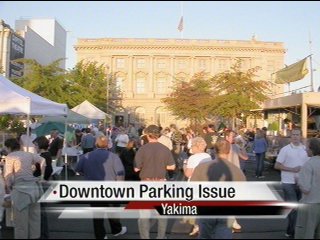 YAKIMA, Wash.- The City of Yakima is growing and holding events downtown is becoming more popular, but with that comes the issue of space.
Allied Arts does everything from exhibits to children's programs, but what brings in $55,000 and 3,000 people is their Fresh Hops Ale Festival. This year, it is expanding.
"Downtown is the spot to have it and to make sure we have enough infrastructure like tents we really need a little more time to be able to set up," said Jessica Moskwa, the Allied Arts executive director.
So they are requesting to use the southwest portion of the Millennium Plaza parking lot, that's about 20 or 30 spaces a day before the event begins.
"We want to work with businesses to make sure it has as little impact as possible on their patrons and customers," said Moskwa.
Allied Arts plan to build their tents on various parking spaces. The problem is that on Friday the spots are usually filled up with paying customers.
"You have several businesses that are right there and they need to have parking so they can services their businesses," said Yakima council member Kathy Coffey.
Nearby business owners say losing parking for one day is okay but with more events planned in downtown for the future, parking and space is an issue.
"It's going to be a growing challenge that we should rectify because it an exciting positions for us to be in," said Coffey.
Allied Arts staff says they will pay for every parking spot they use. City Council members will vote on whether they will get the extra space at the council meeting Tuesday night.