Students dig in to make school lunches healthier
Posted:
Updated: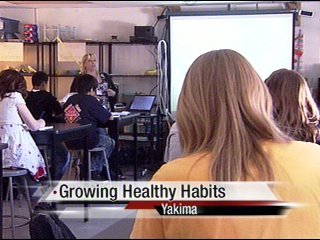 YAKIMA, Wash. -- Students from one Yakima classroom are taking matters into their own hands, trying to make school lunches healthier.
Pizza, cheese zombies and sloppy joes, on average the Yakima School District serves 11,000 lunches a day. They meet federal guidelines, but one classroom thinks those guidelines could be healthier.
"We want to see more fresh fruits and veggies and real meat, like quality meat," said Katy Geerhart, 7th grader.

"We've written letters to our local legislatures encouraging funding of more healthy foods. We live in this incredible valley that has so much to offer and I think the kids are feeling a little empowered with a voice," said Christina Carlson, teacher, Discovery Lab School.
The students watched the documentary Food, Inc. and learned how food services works. Carlson said students just need the tools to grow healthy habits.
"When kids are given healthy food, they'll choose to eat it. I can have a box of 150 apples gone in two days and they really seem to enjoy it," said Carlson.
And a $3,000 grant from the Rev-Up program will help the Discovery Lab School and Epic plant a garden.
One hundred tomato plants were donated by the Future Farmers of America, out of Wapato.
Students want to plant tomatoes, carrots, purple potatoes and beans. However, the veggies can't be used for school lunch.
"But, it can be a food experience and so classrooms can go out and pick the produce and use it for a food experience," said Carlson.
Carlson's class plans to have a feast at the end of the year using all homegrown and homemade recipes.