Homeowners on North 23rd Ave. planning closure of pathway
Posted:
Updated: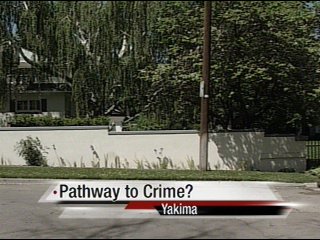 YAKIMA--A shortcut to Lincoln Avenue may soon be shut down as neighbors say it's a magnet for criminal activity.
Carry Harthcock lives at the end of North 23rd Avenue in a nice house on what seems like a nice street.
But Harthcock believes looks can be deceiving.
"I've been burglarized once successfully, I had another attempt where my alarm went off," Harthcock said. "The person that was trying to get into my house jumped the fence and used this access way."
Neighbors told KNDO they've witnessed drug deals and painted over graffiti repeatedly on their street.
People living on this street say crimes are committed along a walkway linking 23rd and Lincoln Avenue every week. They blame illegal activity on the pathway, which provides an easy access point to Lincoln Avenue. By the time police get here, any suspect's long gone."
So they went to City Council, where a packed house voiced support and opposition to closing the pathway on Tuesday night.
"No study has been conducted to assess the impact or the actual safety benefits closure will have," one opponent said at the council meeting.
In the end, council gave the okay to close the path, but didn't lay out a clear path for how to do that.
"Do we have a gate that just locks at night or do we completely close the whole thing?" Nora Chamberlain said. "The cost is being considered."
Chamberlain must consider cost because the city won't foot the bill. It's up to her and her neighbors.
"It's a little frustrating as a homeowner and taxpayer that we as citizens have to pay for corrections," Harthcock said. "That [property] belongs to the city."
But they all agree paying the price to shut the walkway down is better than the alternative.
"I want my neighborhood nice, I want it safe," Chamberlain said. "I don't want my kid coming down here and finding a gun in the street or needles or whatever else. None of us want that.
A temporary closure would probably cost about $5,000. Some neighbors say they'd rather spend more money and block access to Lincoln Avenue permanently. Better lighting for the area is another option being considered.