Missile technology developed at PNNL
Posted:
Updated: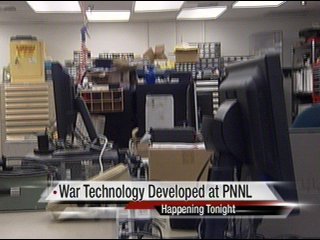 RICHLAND, Wash-- At the Research District in Richland, scientists have developed a new missile monitoring system which helps soldiers fight overseas.
The new technology will better alert soldiers a missile isn't ready to fire.
"There have been several hang fires, where you pull the trigger and they haven't left," explains Kurt Silvers, project manager with PNNL. "That is kind of crucial when you're in a combat situation."
The device plugs into a missile and can detect if there's too much damage to the weapon.
"Just exposure to the harsh environment, driving it on a flat bed truck across 200 miles of washboard road may shake some components," Silvers adds.
Tracking the missile's readiness could help save soldiers' lives. Kurt Silvers and his team of engineers have been working on this first-of-its-kind device for the better part of 15 months.
It's just now making the rounds in Iraq and Afghanistan and helps solidify our region's growing technological advancements.
"We have some photos that came back from the war showing our device in the field being used. So that's a significant accomplishment and everyone takes pride in that," Silvers says.
The Department of Defense has ordered another 675 devices and workers say they will be shipped out and ready for use in about a month.