Union Gap Police Chief, Mayor, and neighbors concerned with Stanton expansion
Posted:
Updated: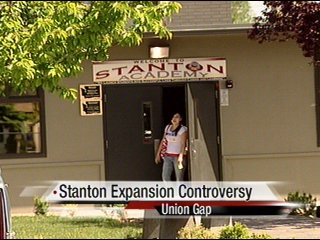 Yakima, WA--The Yakima School District wants to expand Stanton Academy. But some in Union Gap are completely against that move.
At Stanton Academy, they have the need for more space, and the money and the land to make it happen. Sounds like a no brainer right? Not according to the Union Gap police chief. Chief Almeida says the residents have complained and that they've had issues with graffiti, tagging, and theft. But he says all of the crime in the area can't be blamed on Stanton students and acknowledges that many kids at the school are just trying to get an education. At the same time, the city has had to put one of their own officers at the school. Those officers have to be paid for by the city of Union Gap.
The entire situation of needing union gap approval for a Yakima School District project is unique. Stanton Academy is part of the Yakima School District, but it's on Union Gap land. Union Gap does not have a secondary school, so their high schoolers go to Yakima schools. Superintendent Beraza says that gives them a reason to want what's best for Stanton.
Stanton Academy, an alternative high school, will be absorbing students from the Yakima School of the Arts so they need to expand and modernize. Yakima School of the Arts, another alternative school, will be closing. The alternative schools serve students who haven't been successful in a traditional school setting. Student parents, students that have to work to support themselves or their families, and students with serious behavior issues are just some of the types of students that attend Stanton and the Yakima School of the Arts.
Stanton is looking to add 8 new classrooms, more parking, and water and sewer systems. The city of union gap will give them a yes or no on the expansion within 8 days.