Broadcast program has students showing up to school early
Posted:
Updated: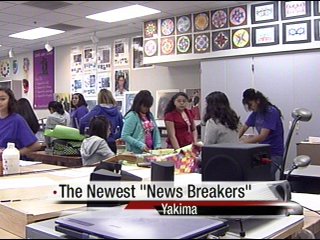 YAKIMA, Wash. -- It's just after 7:00 a.m. at Lewis and Clark Middle School, the students in Carole Huls classroom don't have to be here, school hasn't started.
"It's exciting to see kids want to learn and want to learn more, you know that's just very exciting for a teacher," said Carole Huls, Highly Capable Chairman.
It's zero period at Lewis and Clark Middle School and the kids are highly capable students, they've passed the WASL and an extra test. Now, they've joined the LC News Breakers, a broadcast class for hi-cap students. Huls said these students aren't always challenged by regular class work.
"Sometimes classes are kinda geared to the kids that are having a little more struggles and it's good to hit those kids too and you know really focus on them, but this is for those kids that want the added enrichment," said Huls.
Kids create the backdrops, props, conduct interviews, edit footage, basically everything needed to produce a weekly 10 minute newscast. At first Huls was nervous the students wouldn't be into the new program, which started in March.
"If this is a flop these kids won't want to even have anything to do with it. Their peers will be oh that's just dumb, but it was awesome and we even had some teachers say, you know you could do more then a ten minute, we'd be okay with 20 minutes," said Huls.
The news team is made up of 61 students, with an even distribution of 8th, 7th and 6th graders. Each hi-cap student counts for funding of the program, over $12,000 for the News Breakers.
Next year they hope to upgrade their technology, creating a chroma wall, also known as a green screen. Huls said the program is so popular students are asking to retake the hi-cap test in order to get into the broadcast class.