Mabton High's College Culture
Posted:
Updated: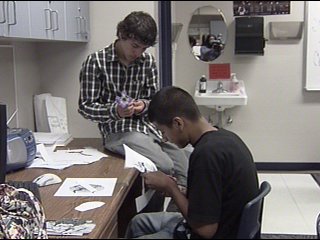 Mabton, WASH--Many high schools measure their success by the number of students graduating, but at Mabton High, they set their sights much higher.
Dave Mendoza is the site director for the Gear Up program on Mabton's campus. "We really believe that if we provide the culture of college going, that kids will get caught up into it. I think it's really important for them to understand that they have support around them", he says.
A key part of creating that culture is "College Bound"....a scholarship program for low-income students. The money is awarded based on a student's financial need at the end of their senior year in high school. But they must sign up by the end of eighth grade. It's a statewide program and last year Mabton High School was the first in Washington to have 100 percent of it's students signed up.
Principal Jay Tyus plans to do the same this year, whether or not the students currently have the financial need.
"It's really important, don't think about today, think about when you're a senior. Do you really know what's going to happen four years from now?", he asks. Principal Tyus speaks from experience. His sister was a banker who a few years ago was making too much money for her son to qualify for College Bound. Tyus insisted she sign her son up anyway. During the financial system collapse Tyus' sister lost her job. By the time her son graduated from high school, not only did he qualify for College Bound, he was very much in need of the program. If he had not signed up in eighth grade, the program would not have been available to him.
Chrisantos Chavez is a freshman at Mabton. He wants to study science at The University of Washington or Washington State University. Knowing he's going to have help paying for college keeps him focused.
"I know there's an opportunity that I can't really let go of, it's a pretty good chance that I got", he explains.
100% participation in college bound makes for a different type of peer pressure.
Chavez says, "If I see other people working hard, that makes me want to work hard."
Nearly all of next year's freshman class has signed up for college bound. And if you're the family of one of those three eighth graders who hasn't, you can expect to hear from Mr. Tyus pretty soon.
The deadline for all eighth graders in Washington to sign up for College Bound is June 30th. Students can sign up regardless of their current financial status. For more information visit: http://www.hecb.wa.gov/paying/waaidprgm/CollegeBoundScholarship.asp