International Trade Meeting
Posted:
Updated: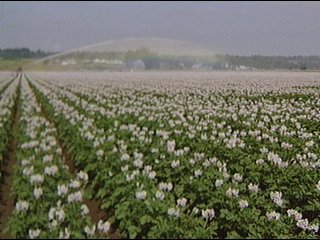 PASCO, Wash. -- In business news, a big part of both the Yakima and Tri-cities economy depends on exporting agricultural products around the world. In fact 30% of our agricultural products are exported.
Wednesday afternoon the Tri-City Regional Chamber hosted the Network Tri-Cities Luncheon as a culmination to the World Trade Month Awareness Campaign. The luncheon featured Bill Bryant, Port of Seattle Commissioner. He spoke on the topic of "Trade and Our International Competitiveness."
He says its crucial we maintain our relationships abroad. He says international trade is very important to our local and state's economy.
One of our biggest threats right now is our relationship with Mexico. Currently, we're in a trade dispute and losing millions of dollars. Mexico is now buying potatoes from Canada causing local farmers to lose $33 million.
Bryant says this is why international trade is so vital to our economy.
"What this means to people in the local economy is jobs. When you are exporting 30% of your agriculture productions that's supporting local businesses and shops and school levies. That international trade economy is the backbone of so much of our economy, and it's the backbone of jobs," said Bill Bryant, Port of Seattle Commissioner.
Bryant says he remains optimistic for the future of agriculture. He says we just need to continue producing quality goods.