Neighbors shook up by homicide
Posted:
Updated: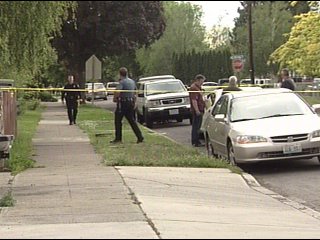 YAKIMA--Yakima police are searching for murder suspects after an 18-year-old is shot at least ten times and killed in broad daylight Sunday. It's the ninth homicide this year in city limits and shook neighbors who witnessed the killing.
Here in the front yard of a home on Pleasant Avenue, a neighborhood watched as 18-year-old Daniel Rivera was gunned down.
Police say this is gang-related violence. Unlike other areas, here rivals sometimes live down the street from each other.
"There's red and blue houses, rival gang member houses scattered all through that area," Sgt. Tim Bardwell. "They [the gangs] haven't carved out a residential niche."
But many living on Pleasant aren't in gangs, and are stunned by a brutal murder on a Sunday afternoon.
Trudy Griswold was working in the yard when she heard shots. She watched her neighbors rush into action.
"I mean we all came out and just rallied together," Griswold said. "To see that young man dead in his yard was just, it was tragic. I never thought I'd have to witness something like that."
Police say they got great descriptions of the shooter and tips on where the suspects hid.
"One of them did follow them for a short distance and led us to an area where we ended up detaining several people," Bardwell said.
Officers surrounded a home a few blocks away on Tenth Avenue for several hours, but they didn't find the shooter. The four people taken into custody have been released.
Even in this troubled neighborhood, Griswold said her neighbor's response to a bad situation gives her confidence.
"I feel completely safe now knowing that if anything happened, they would be there. To see them all come together and do the incredible job that they did was amazing."
While witnesses fear retaliation, they work with police because they want to rid their neighborhood of gangs.