Rain ruins hay crop
Posted:
Updated: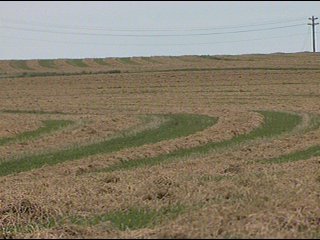 WEST RICHLAND, Wash-- Harold Alexander has worked the fields for the better part of three decades. Rarely has he seen his hay crop crippled by so much rain. The weather has been so unsettling, it's kept him from baling it up and shipping it off.
"The longer it stays in the field, the more protein it loses and it loses the color, too," he explains. "It reduces the quality and reduces the price."
When the crop is cut it's typically baled within the week. But some of his hay is pushing two. This time any given year, some 3,000 tons should be wrapped up; so far Harold says they've only been able to bale about 120 tons. He says damages to his fields could be in the tens-of-thousands.
"We just started to bale some of it yesterday and it rained, so we're another day or 2 out now and it's supposed to be a 70% chance of rain tonight. So it looks like it's going to be the weekend or next week before we can really do anything," he adds.
The best he can do now is hope for better weather.
"It's more frustrating than devastating," he tells us. "It does reduce the quality, price, but you can't plan anything."
If there is any good news, it's in knowing Harold's got three more waves to bale his hay and go from brown to green.