Wildlife thriving in courtyard at Kennewick High School
Posted:
Updated: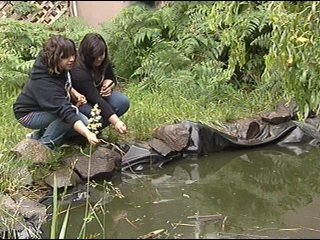 KENNEWICK, Wash.-- At Kennewick High School, you can hear birds chirping and see a mother duck teaching her ducklings how to swim. It's not on a TV in a classroom or at the park down the street, it's in a courtyard right in the middle of the school.
The courtyard has been full of plants and animals for nearly 20 years now. Ron Okarma, a science teacher, helped build it and fill it with wildlife. He's been watching the ebbs and flows in nature since then. He also uses the courtyard as a teaching too. He says, "Education just isn't in the classroom, you just don't open a book and learn about something, it's all around you."
Devin Homer, senior at Kennewick High School, has been in the courtyard for multiple classes during his four years at the school. He says, "When we we're learning about how plants grow and how nature works and learning about ecosystems and stuff, we'd come out here and just look at one. This is a great example of one. We have a pond and stream and the trees and everything."
Home actually helped rebuild the courtyard earlier in the school year. A group of students volunteered their time to reline the stream, fix the water pump, and cleanup the area. "It was really cool that afterwards, you come out here and there's all these ducks. People that didn't really know about the pond walk by and take a glance out the window," says Homer.
Now, there are more than 30 ducklings in three separate families, seven turtles, other birds and squirrels that come in and out, an apricot tree, willow tree, and countless other bugs and plants.
Okarma is actually retiring at the end of this school year, but students and teachers plant to keep the courtyard ecosystem going next year. One science class even plans to turn the electric water pump into a solar water pump.