Yakima neighbors are tired of temporary fixes for potholes
Posted:
Updated: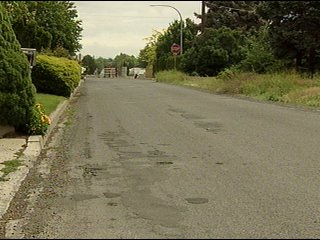 YAKIMA, Wash.- For people like Butch Judycki potholes have been a battle for years. Judycki lives on West Arlington in West Valley. He says some neighbors think ground water from a nearby orchard is the cause. Others blame poor road construction.
"We thought boy this is going to be nice they're going to repave this but instead of repaving they put another seal coat down and the only real cement you can see is the patch work," said Judycki.
Neighbors say so far city crews have come out over 9 times this year to patch up holes. Now there are new challenges like recent rain and speeding drivers.
"This area is supposed to be 20 miles per hour but they go down at 40 and 50 miles per hour and it just tears it, tears it all up and its been an on going problem," said Judycki.
If you look down West Arlington you can see the city has patched up several potholes, the problem is this is only a temporary fix.
"The cost for rebuilding roads adds up fast so at this point it makes more sense to keep patching," said Joe Rosenlund from Yakima Public Works.
City crews say patching up a pothole costs $75. Reconstructing it would cost about $20 for every square foot, which means the road would easily costs thousands.
"For now we'll keep an eye on it and patch it up as we need to," said Rosenlund.
The streets and traffic engineer says the city will take another look at plans but their priority is to fix main roads first. He says there are no immediate plans to reconstruct the road.