Heart attack survivor shares the importance of CPR training
Posted:
Updated: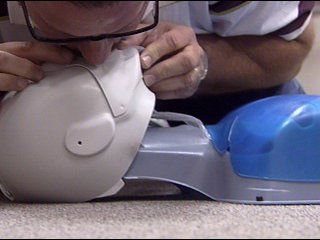 YAKIMA, Wash. -- More than 95-percent of people who suffer a sudden heart attack die before reaching the hospital, according to the American Red Cross. It's CPR and AED Awareness Week.
Ellen Davis' heart stopped and she literally died while shopping in Wal-Mart. But, fortunately five people who knew CPR kept her blood and oxygen pumping until help arrived.
"Basically, I had died," said Davis.

The five people that came to her rescue were an employee, two nurses, a police officer and a firefighter, all trained in CPR.
"I tell them at the end of the class that I hope they never have to use it, but they do have the training now and if it comes up they can use it, they know what to do," said Gene Ramos, instructor, American Red Cross.
Davis was in a busy area surrounded by lots of people, but that's not always the case. Most heart attacks happen at home, which is why the American Red Cross wants someone from every household to be trained in CPR. And why defibrillators should be available in heavily populated areas. CPR helped Davis but, an AED shocked her heart back to life.
"The longer it goes without having the shock applied, the tougher it is to get it back so the best chances of survival have a defibrillator and get it applied and push the button," said Ron Melcher, deputy fire marshal, Yakima Fire Department.
Statistically if CPR and defibrillation are not used within ten minutes of cardiac arrest there is virtually no chance of survival. Davis was in the right place, with the right people and the right tools. Now she's determined to tell people about the importance of CPR and AED training.
"Maybe there's a reason for this, maybe God's gonna use me for a tool and I don't know maybe, he is," said Davis.
Nine defibrillators have been placed around the city by the Yakima Fire Department. They're in places like the airport and Sundome. To learn CPR and how to use a defibrillators contact the American Red Cross.