The first vertical axis wind turbine in the state
Posted:
Updated: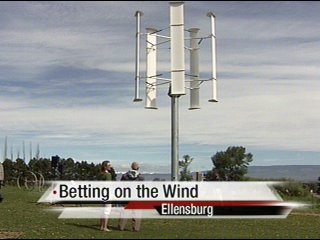 ELLENSBURG, Wash. -- It's quiet, it's clean, and it's the state's first vertical axis wind turbine. For homeowners Jim Pappas and Nan Doolittle it fulfills a lifelong goal of being earth friendly.
"We're amazed at how quiet it is, we're amazed at how clean it is and you contrast it earlier with the oil spill," said Jim Pappas, homeowner.
But, say your not sold on the whole idea of green.
"This unit could offset all of a very energy efficient home's power usage," said Steve Gunn, owner, Windbreak Construction.
There's always the thought of making some green...when you don't need the power you've produced the local utility company gives homeowners credits for power they put towards the grid.
"There are production incentives, they're paying you to make the power and also you get to use the power in your home so it's a great time to install all these units," said Gunn.
For the homeowners it wasn't just about going green they said, you can bet on the wind more than you can bet on the stock market. So for them the $35,000 investment is worth it and it should pay off within 8 to 10 years.
The tower height is shorter than the industrial models because the vertical blades capture wind from all angles. The homeowners are happy with their new wind turbine and encourage others to invest in alternative energy.
"Well, I would act fast, you know stay within the perimeters that federal government and the state government," said Pappas.
There are four different size wind turbine's for home usage, Pappas' is a 5 kilowatt model, the size depends on the site conditions.