Yakima Valley Pet Rescue Needs Fosters
Posted:
Updated: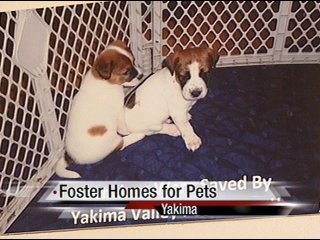 Yakima, WASH-- There are a few animal rescue groups in the Valley going above and beyond to help animals but Yakima Valley Pet Rescue isn't your average animal aid charity.
They do save animals in need...by 11 this morning they already had two new abandoned pets on their hands; so far this year they've adopted about 100 dogs and cats into permanent homes. Where they're unique is how they get animals ready for those homes.
Yakima Valley Pet Rescue has an office where they do everything from vaccinations to adoptions and even pet rescues. But they do not have a kennel. Every animal that comes in goes to a foster home. They believe that is essential to accomplishing their mission.
Cindy Ohallaron, a volunteer with YVPR explains, "Our mission is to find forever homes for these dogs. And we'd like to make sure that they're put into a home they'll stay in."
Besides providing a loving environment...the point of fostering is to socialize the dogs and make them more adoptable. Many fostered dogs are already house trained and know basic commands.
Erin Shnebly recently adopted a fostered dog from YVPR. Knowing Moses came from a foster home made her more comfortable adopting.
"Shelters kinda just scared me because I didn't know where they'd been, and I know that you know he would have been a good dog if someone was going to keep him in their home and foster them", says Shnebly.
Claire fowler fostered Moses. She says seeing him with a permanent family is one of the best parts of what she does.
But there aren't enough people doing it. YVPR is in desperate need of more volunteers. They say you don't need a big house, just a big heart and a willingness to give the animals love and attention.
If you would like to apply to be an animal foster or to adopt one of the Yakima Valley Pet Rescue Animals, visit their website at www.yvpr.org or call 509-248-3113.