Yakima Fire unveils new tiller truck, it's bigger and better
Posted:
Updated: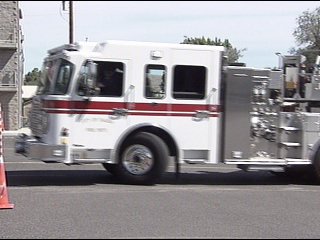 YAKIMA, Wash. -- We've been telling you about Yakima's new tiller truck and Tuesday we get a look at it in action.
It's 30 feet longer than the other ladder trucks and actually more agile.
"The new tiller truck bends in the middle. It's like a semi-truck so it allows us to get a little more maneuverability with it," said John Shahan, firefighter, Yakima Fire Department.
The tiller truck has two drivers, one in the front and one in the back. They steer the rear wheels, meaning tighter turns.
"So when you're trying to maneuver into tighter neighborhoods in the city this truck's a huge benefit for that," said Shahan.
The tiller truck extends another 30 feet higher than the old ladder truck, which means it can reach an 8-9 story building. The tiller truck will be a big help at industrial fires, the closest aerial trucks of this size are in Ellensburg and the lower valley.
"The big reason for this truck is to get on roofs to ventilate fires to make it easier for the engine company to get in and do their jobs," said Shahan.
Purchased in 2008 with money from a city bond and fire capitol funds the tiller truck replaces the old 91 ladder truck. Deputy Fire Marshal Ron Melcher says property owners also benefit from insurance rates.
"One of the key components is your fire insurance that you pay every year, that's tied to the equipment. The insurance rating bureau they come through and rate the department," said Melcher.
Twelve firefighters are trained to drive the truck and operate the tiller. They've been practicing for about a month, getting comfortable with the new equipment.
"Because you know in our job every second you're not up in the air is one second lost," said Shahan.
If you'd like to learn more about the new tiller truck call 509-576-6353 or visit www.yakimafire.com