DOT is trying to cut down on Vandalism
Posted:
Updated: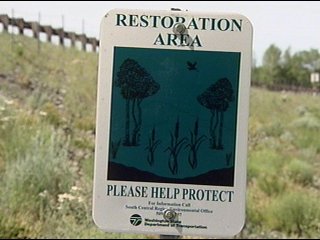 Yakima, WASH-- The Department of Transportation is trying to clear up a misunderstanding and get the community's help in preserving one of our public areas.
Tuesday they replaced the "No Trespassing" signs along the bank of the Naches River. The shoreline west of 16th and Fruitvale had a lot of vandalism last summer. Some people were breaking the irrigation pipes that water the vegetation on the embankment.
That problem is starting again this year. But the "No Trespassing" signs were taken down because they were making some people think that the area was completely off limits. That's not the case at all.
"We want to shift more to an outreach effort where we want to just explain to people, educate the public that this is an important area we need their help trying to protect it. Its crucial to have the pipes in place to have the irrigation in place for success of the site", says Craig Broadhead, the Assistant Environmental Manager for the DOT.
The DOT replaced the no trespassing signs with 'restoration area' signs. They are also working with Yakima County Sheriff to put up signs saying "If You See Vandalism, Notify the Sheriff's Office."
If this doesn't stop the vandalism, the DOT will have to find another way to protect the area. So if the community wants to keep it open they should cooperate as much as possible.