Local company donates money for CBC students to compete in nationals
Posted:
Updated: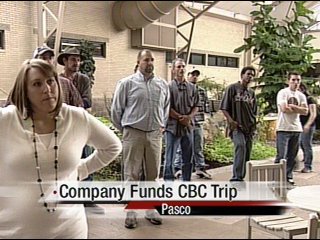 PASCO, Wash.-- One local company is making it possible for Columbia Basin College students to represent Washington state in a national Skills USA competition.
Bogert Aviation is donating $9,000 to help pay for four students to compete in a manufacturing competition in Kansas City, Missouri. Owners of the company say they've hired students from CBC before and wanted to give back. Richard Bogert says, "Some of our workers started work for us part-time while they were still students here and working for us part-time. Now, most are in full time positions and we're pleased as can be with their performance."
The national Skills USA Competition is June 20-26. Justine De Leon, one of three students on the "Automated Manufacturing Technology" team, explains, "The competition I'm going to basically it's a teamwork competition. So, there's three of us and it's called "Automated Manufacturing Technology." My role is going to be the person who operates the machinery." Other team members are Nicole De Leon and Andrew Willis. This is the first year a team from a community college in Washington has made it to nationals in that category.
A fourth student, Jacob Sachs, is going to be in the category of "Lathe Turning Technology."
Also, Rob Walker, CBC instructor, says the school will changing the name of the program the students are in, from Machine Technology to Manufacturing Technology. Walker says the new name better describes what the class is all about.