Demolishing a Hanford uranium processor
Posted:
Updated: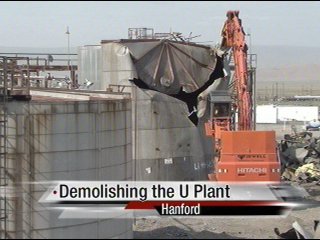 HANFORD, Wash. -- The Department of Energy is using stimulus money to accelerate a first-of-its-kind demolition project. The Hanford site is home to a highly contaminated uranium processor that dates back to the Cold War. Now, it's time for demolition.
Kathy Louie is the Deputy Federal Project Director. She said, "We're completing and starting some key activities on decontamination, de-commissioning, and take down some of the old facilities at Hanford. This is a tremendous market progress. Only possible through stimulus funding."
U-Canyon is one of 5 facilities at Hanford that will be demolished. The Department of Energy says as they move forward with clean-up, it will be less of a footprint to deal with.
"Along with bringing the footprint reduction along, we are completing key activities in the bullseye zone, or central plateau, so we can demonstrate (that) we can deal with these large nuclear facilities," said Louie.
But that is not an easy job; the 35-person crew has been working on this project since last fall.
Once the smaller buildings are demolished crews will move on to the big one...U-Canyon.
The demolition will be the first of the canyon plants on the Hanford site.
Louie says it demonstrates to the country that we have the capability and competency to deal with larger nuclear facilities.
Once U-Canyon is demolished in 2012, crews will move on to another canyon.