Cell phone law becomes primary offense
Posted:
Updated: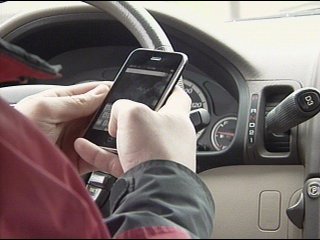 YAKIMA--It's official, talking or texting while driving will get you pulled over, even if you're following all the other rules of the road.
For one day at least, most drivers in Yakima put down the phone.
Washington State Patrol Lt. Jim Keightley saw about a dozen people talking or texting while behind the wheel in an hour Thursday morning. Keightley normally sees twice that number.

"There's going to be collisions that don't happen because this statute is now a primary law," Keightley said.
Personal experiences--not the change from a secondary to a primary offense--have already convinced some to hang up.
"I have [used the phone while driving,] but not anymore," Mariza Garcia said. "I kind of got in an accident, but I wasn't even on the phone! I just looked at [the phone] and then looked away."
Troopers say that's the point. It doesn't take much to get in an accident.
Some feel they can talk and drive safely, but very few people KNDO found oppose the ban on texting.
"That [texting] is way too distracting," Gabriel Reyes said. "But driving, I can easily put my head like that [pantomimes holding a phone between his head and shoulder] and drive."
There are a couple of loopholes to this law: you are allowed to talk on the speaker phone and it's only a violation if the car is moving. So you're technically allowed if you're at a red light or a stop sign to look down at your phone and text or check your e-mail.
While troopers can't ticket you for doing those things, they advise against them.
"We have seen a clear correlation in the increase in the number of collisions caused by distracted driving through the use of a cell phone while you drive," Keightley said.
The threat to Reyes' wallet has him falling in line.
"I was already planning on buying a Bluetooth and just doing that," he said. "Might as well save me a $124 ticket."
You can get a decent Bluetooth for about $50. Wired headsets can work just as well and are usually even cheaper.