Desert Hills students rewarding random acts of kindness at the school
Posted:
Updated: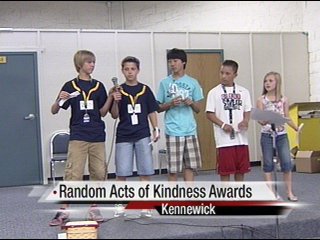 KENNEWICK, Wash.-- The last few weeks of school can be stressful. So, students at Desert Hills Middle School in Kennewick have found a way to lighten the mood. The Associated Student Body, or ASB, is giving out "Random Acts of Kindness" Awards.
"We're looking for students that help the teacher pick up their room after class, stay after class to make sure they get their points correct; things that kids will just do on their own, not being asked to do," says ASB President, Keegan McCormick. Over the past few weeks, teachers have been nominating students, or other students can nominate their classmates as long as a teacher endorses the nomination. The kids who get the awards get a special dog-tag style metal necklace.

On Thursday, during 6th grade lunch, everyone with a dog tag was invited up on stage to be honored. As that was happening, a special, surprise award was presented. This one wasn't presented by students, but by the manager of the grocery store Safeway, Shawn Bolger. He gave an award to 12-year-old Nichole McFarlane. Last week, the 6th grader was purchasing something at the store when the cashier gave her the wrong change. He gave her change for a $100 bill, instead of the $20 bill she handed him.
Nichole's dad, Dwight McFarlane, says, "I was standing at the end of the checkout line, and I just watched everything unfold. Nichole had 2 choices: she could have kept the money and walked away or given the money back."
Nichole handed her change back and told the clerk she didn't give him a $100 bill, just a $20 bill. Safeway's manager acknowledged that's not something most kids would have done. He dad says, "I was so proud of her for making that choice."