Safe Streets Task Force would have FBI and DEA in Yakima soon
Posted:
Updated: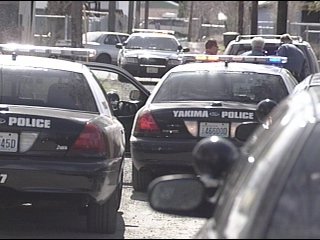 Yakima, WASH--It was less than two weeks ago that a young man was gunned down on the 700 block of Pleasant Avenue in broad daylight. The Yakima Police Chief said it was an execution reminiscent of prison gang warfare. He renewed his calls for a federal gang task force. And now he and U-S Attorney Jim McDevitt say one is coming.
We want to make sure anyone who's involved with a gang gets arrested, even if they weren't there when the trigger was pulled", Granato told KNDO.
Chief Granato believes the funding from the Safe Streets Act will be a major asset in making that happen. He says the Department of Justice has approved the Yakima police department and county sheriff for money to fund things like in-depth investigations, advanced equipment, wiretaps, and witness protection and relocation.
We spoke today with the mother of Daniel Rivera, the young man who was shot multiple times last week on Pleasant Avenue. For safety and privacy reasons she did not want to appear on camera. She did say that the Safe Streets Act money should have come to Yakima along time ago. Maybe then, her son would still be alive.
According to the chief, the differences in gang crime may not be obvious at first because the task force will be working on the big picture.
"We're not looking at taking down one individual; we're looking at taking down organizations", Granato emphasized.
McDevitt says many details still need to be worked out. The announcement that the money is coming to Yakima isn't even happening until next Tuesday.
But Granato did say the Safe Streets Act could bring as much three million dollars a year to local anti-gang efforts.
McDevitt said Friday getting the money in hand can take a while. However Chief Granato says he is putting the wheels in motion right away on his end starting with an FBI and DEA agent setting up shop with local law enforcement.