New testing methods help acid reflux sufferers
Posted:
Updated: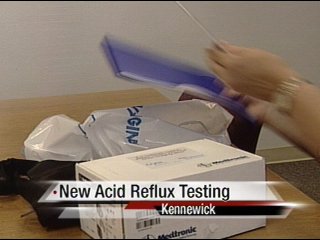 In the past to get diagnosed for acid reflux you had to get tubes put through your nose. Nurses and doctors say it's horribly uncomfortable and often embarrassing.
But new testing by KGH places a capsule inside the esophagus during a minor procedure and one or two days is all that's needed to do the testing.
It's called the Bravo program
"This program will place a very small capsule, which adheres by vacuum to the wall of the esophagus, constantly transmitting to a small receiver worn on the belt," supervising nurse Deborah Burke said.
The capsule and the wireless receiver will show how many instances of reflux a patient is experiencing throughout the day. It's a small piece of technology that Deborah says blows away old testing methods
"Back in the day you had the catheter, which would actually drape over an ear and be taped."
Where past methods had long hanging tubes, Deborah says the new program is much more discreet and offers better results.
"If you're having a lot of continuing heart burn and it's not being relieved with any medications you're taking you might need surgery to repair the reason for the reflux. That's why you use the program," Deborah said.
If patients use the Bravo system we're told they can go about their daily activities normally.
Today the first patient got the new procedure at KGH. Nurses say everything went well and they already have five more people on the waiting list.