CWU Grad has special story
Posted:
Updated: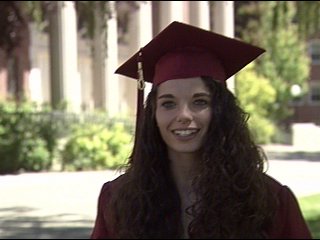 ELLENSBURG--You could hear the big sigh of relief coming from Ellensburg. College is over for hundreds of Central Washington University students.
KNDO spoke with one graduating senior who's gone through a lot. She's been raised by foster parents for the past ten years after her biological mom and dad went to jail.
"My parents were on the run from the law," Carla DePiro said. "I never really stayed in one place for more than six months at a time."
Carla DePiro has lived all over the United States. Her parents took her along as they ran from police. She left behind friends, schools and much of her childhood.
At the age of twelve, the running stopped.
"When my parents got arrested, I was used to change," DePiro said. "It was hard [being without them,] but I had a great support network."
That network included Ron and Lori Macarty, foster parents to Carla and her brother. Ron worked with Carla's dad. He said despite the turmoil in her life, Carla always excelled in the classroom.
"She was an honor roll student when she was coming from Colorado," Macarty said. "She came back and just got into a better situation and more familiar surroundings and just did real well."
Foster life takes it toll on so many children. Macarty believes Carla's character carried her.
"Foster kids come with a lot of baggage because they have a lot of history and things that put them into the situation to be foster kids," Macarty said. "The fact that she is where is says a lot for her."
Her mom's still a big part of her life. She's watched proudly as Carla got married, had a son, Landon, now nine months old, and donned the cap and gown Saturday.
At Central, Carla's life inspired her: she hopes to work for child protective services.
"I want to give back," DePiro said. "I want to be that voice for those that don't get heard."
Carla is of course just one of about 1,800 students graduating from Central Washington University this weekend.
About 500 of them will walk in Sunday's ceremonies in Kent.
KNDO extends a heartfelt congratulations to all those grads.