Yakima Chamber celebrates new CEO, 100 years of Pacific Power
Posted:
Updated: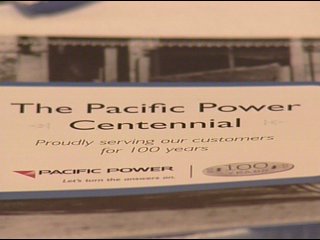 YAKIMA, Wash. – Members of the Greater Yakima Chamber of Commerce gathered on Monday to celebrate Pacific Power's 100th anniversary and meet their organization's new CEO.
Some of Pacific Power's leadership were hosted by the Chamber at a lunch inside the Red Lion Hotel.
Patrick Reiten is the president of the company, he says Yakima was one of the original cities to receive service from Pacific Power back in 1910.
"The company adopted an ethic at the very beginning," he said. "That ethic was that the company wouldn't succeed unless the communities in which it served succeed."
Pacific Power had roughly 7,000 customers when it started, it now has increased that number 100 times to more than 700,000 customers 100 years later.
Members of the Chamber at the luncheon also had the chance to meet the man who will be leading the organization beginning on July 1.
Dan Schenkein will replace Mike Morrisette, who is retiring this month as CEO of the Chamber.
Schenkein says that in a tough economy it is important for chambers across the country to advocate for businesses and make sure the small business owner is heard.
He believes central Washington can weather through this climate better than other communities because it has a stronger foundation.
"One of the advantages I think that we have in the Yakima Valley is the agrian economy," said Schenkein. "People do need to eat."
The new chamber CEO has over 25 years of experience in economic development and marketing management. He previously worked for business communities in the Midwest.