Michele Taylor found not guilty, speaks out about the verdict
Posted:
Updated: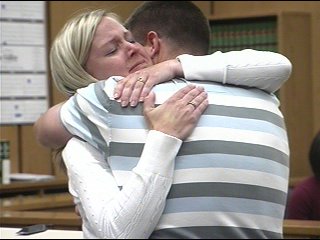 YAKIMA, Wash.- The East Valley teacher accused of having sex with her student is found not guilty. The jury found Michele Taylor not guilty on all three counts.
The courtroom was quiet and tense as everyone waited for the jury. Then the verdict came out, not guilty.
Taylor and her family broke out in tears. She said there aren't words to describe what she was feeling.
"You almost feel like you can't breathe. That's the point where your life's going to change so it was difficult to even just breathe," said Michele Taylor.
Taylor was accused of having sex with a student and trying to seduce another. The accusations came out last summer and ever since, family and friends say life hasn't been the same.
"We're finally going to move on for the last year its been pure hell for our family," said Vickie Lamar, Taylor's mother.
As Taylor celebrated the verdict with her family, she said she is excited to get back to her normal life and move on from the trial.
"It's been the longest year. I feel like we've aged 10 years this past year so its a huge relief to have this over with," said Taylor.
The trial lasted almost two weeks. Family and friends say they were confident of the verdict but admit it was a long and nerve wrecking process.
As for Taylor, she says she hopes to get her job back. She was put on leave last year when the accusations were released. Taylor has a meeting in September with school district leaders to discuss her job.