Fire at VFW Post destroys countless war artifacts
Posted:
Updated: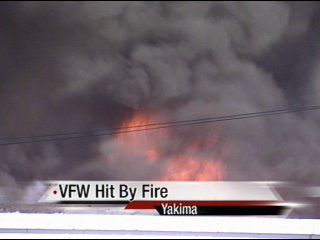 YAKIMA--A fire at Veterans of Foreign Wars Post 397 in Yakima damages more than just a building.
KNDO crews were first on the scene Wednesday morning at around 9:00 a.m. as black smoke and flames poured out of the roof of the building.
Members of the post estimate the different war artifacts inside the building on the corner of Fifth and Walnut Avenues are worth at least $1.5 million. Outgoing Post Commander Bob Hearin said nearly all the antique pieces appear to be destroyed. Most can't be replaced.
"We're just at a standstill," Navy veteran Arnie Frazier said. "We're out of business."
This wasn't any building firefighters responded to this morning.
It's a museum, filled with memories of bygone wars, the post for 1,244 veterans, many who come by several times each week.
"This is their home, this is all they have," Hearin said "Where are they going to go now?"
Bar manager Debra Wallace was there when the fire started.
"I went outside and had a cigarette with my bartender, one of our veterans," Wallace said. "All of a sudden the back door blew open [and] the black smoke came curling out."
Within minutes, flames were shooting out of the roof. The surrounding area was covered by smoke and fire engines.
Firefighters managed to save the building, but not without heavy damage.
Crews did get the post's flags out. They looked as if they'd been through a battle themselves.
The fire's canceled at least two military funerals set for this week.
"Everything that we do functions right out of this building, this is our ground zero," Frazier said. He operates VFW proceedings for military funerals. "Everything we have is in that building."
Frazier thinks the World War II era rifles used for funerals are worth $25,000 alone.
Firefighters told vets those weapons appear to be okay, but for the people who rely on the VFW for a job or a meal, things do not look good.
Fortunately no one was hurt in the fire. As of 5:00 p.m. Wednesday, investigators had not determined what caused the fire.