Sunnyside murder trial begins
Posted:
Updated: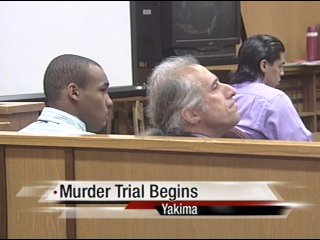 YAKIMA--The trial of two men accused of murdering an 18-year-old Sunnyside man begins. Armondo Gonzalez and Julian Williams face second degree murder charges.
In November 2008, Eric Vargas was shot and killed in his car. Investigators think the shooting happened after someone he was riding with threw bricks at another vehicle.
You could pick out the family and friends of the victim, they were wearing shirts with a picture of Eric Vargas. They came to see Gonzalez and Williams tried for his murder.
Prosecutor Ken Ramm detailed for the jury all the witnesses from the afternoon of November 10, 2008 when Vargas was killed, many linking two men--one tall and Hispanic, the other black--to the scene nearby.
Attorneys for Gonzalez and Williams argue most of the evidence is circumstantial and doesn't prove their clients fired the shots that killed Vargas.
"[Williams and the others in the car] couldn't have aided and abetted," Lee Edmond, the defense attorney representing Williams, said. "All they did was get out of a van when they were violently attacked. So what you're going to need to do is decide who was the shooter."
Edmond said his client, Julian Williams, was driving the van but did not shoot back at Vargas and his friends.
Gonzalez's attorney said the murder weapon was found ten months later at another suspected gang member's house who isn't charged for killing Vargas.
Attorneys say a ballistics report shows only one gun was used in the killing. Police found seventeen shell casings at the scene.