Local census workers angry over enumerators from Oregon
Posted:
Updated: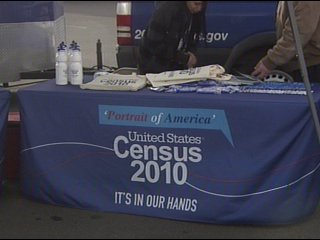 Yakima, WASH--Toppenish census workers have always known their positions were temporary, but they didn't expect to have outsiders finish their jobs.
"It's just upsetting to know that somebody else from somewhere else was lined up to come and finish up our local jobs", says Maribel Alaniz, an assistant crew leader for the Census in Toppenish.
All week 11 census employees from Bend, Oregon have been working in the Valley. They are paid an extra 10 hours for driving time, reimbursed for gas, put up in a hotel and given per diem pay on top of their regular wage.
A census spokesperson says this is not unusual.
"It has been done within our region and others parts of the U-S where they have brought folks in temporarily to help out with an area that may not make it's deadline", explained Cecilia Sorci, the Regional Spokesperson for the Census.
But according to the local census workers, the Oregon enumerators are taking work away from them.
Chanae Alaniz is an enumerator for the Western Reservation area in Wapato. Her last day of census taking was yesterday...although the Oregon workers are scheduled through tomorrow. "We would be out of work Thursday and Friday while they work Thursday and Friday so it is them taking our job", she says.
The census spokeswoman said if people weren't given more work...its because they weren't good at their jobs.
"If they aren't getting further binders that's a personnel issue. Being a census taker is a very challenging job not everyone is fit for"
Chanae says she is very productive and today is the first day she's ever been told otherwise.
The census workers we spoke to in Toppenish claim the decision to bring in Oregon workers was made based on inaccurate productivity information. The census representative denies this.