Man shot in the leg and workers protected from rounds by apple box
Posted:
Updated: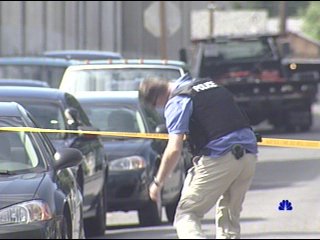 YAKIMA, Wash. -- Police are looking for suspects in a drive-by shooting that sent one man to the hospital this morning. While a box of apples shielded workers at the nearby Roche Fruit Warehouse.
Shots ring out often in the area of 3rd Avenue and Willow, but usually at night, not 9:30 in the morning.
"It is a little unusual for shooting to happen at 9:30 in the morning. Yes, it's not unheard of, but it is unusual to be sure," said Capt. Greg Copeland, Yakima Police Department.
Police question witnesses as 21-year-old Joshua Stewart was taken from the scene with a gunshot wound to his leg.
"It appears that there was some sort of argument between the victim, a couple of his friends, the residents of a house here," said Copeland.
The crime scene was littered with bullet casings, but Stewart appears to be okay.
"He was talking to the responders and to the officers as they arrived so definitely a victim of gunshot wound, but not believed to be fatal," said Copeland.
At Roche Fruit Warehouse they've installed a camera near the garage door. Now, police are hoping that it caught a good image of the suspects. Several rounds went through the walls at the warehouse and a box of apples stopped the bullet, protecting the workers inside.
Police believe the suspects may have taken-off in a red vehicle and a white vehicle, there may be multiple shooters.
"The casings that are at the scene there's a couple of different types, which sometimes will indicate there's more than one person doing the shooting," said Copeland.
Several witnesses were taken from the scene for questioning, as police try to work out a suspect description.