Seasons of Service cleans up East Yakima
Posted:
Updated: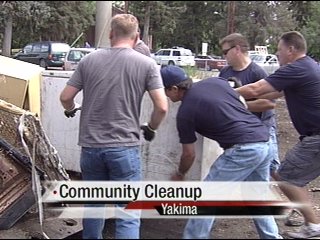 YAKIMA--Some people believe that creating a clean neighborhood can increase pride in where you live and maybe even stop crimes like vandalism and littering.
That's why hundreds came out Saturday to clean up Yakima.
Getting down and dirty. A few dozen people got to work at this home on Fair Avenue.
"There's a lot of stuff that needs to be cleaned up," Jeremy Zumwalt said. "Either people won't do it or they can't, and so somebody needs to clean up it up somehow."
Fortunately, there are plenty of folks willing and able. They came together in a joint effort of Yakima churches called Season of Service.
"Rather than just have a one-day event we [aimed to] really bring the community together to serve," David Watson, Yakima Foursquare Church, said. "That service would meet whatever those needs are."
Since May, Watson estimates Season of Service has taken on about 50 projects. Some take a handful of people. Others, like Saturday's cleanup, call for larger groups.
Organizers hoped 100 people would show up this morning, but the community exceeded expectations with about four times that amount lending a hand.
"I get a great feeling out of serving," Zumwalt said. "This is a great opportunity to change the looks of Yakima a little bit."
This community service gives Yakima an image makeover, one piece of trash at a time.
Though Season of Service is a faith-based group, you don't have to be religiously involved to help out.
You can sign up for future service events online at www.yakimavalleycityfest.com/season_of_service/projects