Two die in car accident after high-speed chase
Posted:
Updated: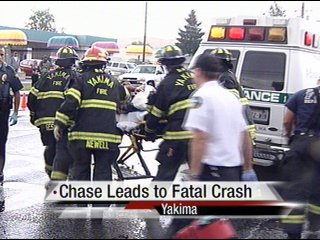 YAKIMA--Two people are dead after a high-speed head on collision in Yakima.
Police tell KNDO they noticed a man driving a stolen car in downtown Yakima, and that sparked a high-speed chase which ended in tragedy.
Police say during the chase the suspect stole one car, hit several others and even tried to run over officers before it came to an end.
Rescue crews worked frantically with the Jaws of Life to get two people out of a car around 3:30 p.m. Sunday at the intersection of 16th Avenue and Englewood Avenue.
Witnesses estimated the suspect was going more than 80 miles per hour east down Englewood when he went through a red light at 16th, swerved to avoid a car and smashed into another vehicle.
Rescue efforts were unsuccessful. Both people inside the car died at a local hospital.
"It was all slow motion as he hit," Jerry Burgin, Jr. said. He watched the accident unfold. "I knew he was going to hit something. There was too much traffic for him not to."
Dave Kelley was inside a church across the street when he heard a noise that "sounded like thunder."
"I hear rain just a little bit and all the sudden,I hear boom!" Kelley said. "I come running out and next thing I know, I see this guy running in a blue shirt, jumped over the fence, got up on there and bashed the window out and."
Police tased the suspect as he tried to break into a home on 16th Avenue.
The chase actually started at Third Street and Pacific Avenue. The suspect caused a wreck, then broke into a car dealership, stole a truck and sped off.
Police chased him all over town as far west as 40th Avenue before he headed east and caused the fatal accident on Englewood Avenue.
Police are still investigating. As of 7:30 p.m. Sunday names of the suspect and victims had been released.