Budget cuts force life skills teachers to be creative
Posted:
Updated: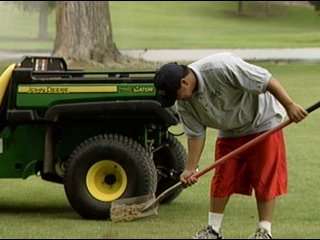 KENNEWICK, Wash.-- Budget cuts over the years have led to fewer jobs for people with developmental disabilities. Teachers are having to think outside the box for job ideas.
Dawn Johnson, a paraeducator with the Kennewick School District, says funding and law changes started affecting job programs about 4 years ago. That's when she started getting creative. Johnson explains, "It used to be that a lot of students spent a lot of time at Goodwill and Columbia Industries. Now typically, it's a senior and may or may not be hired upon graduation. So, we had to look outside of that and try to find new opportunities for our students."
One of those new opportunities is at the Tri-City Country Club. Britton Lacy, the Golf Course Superintendent, says, "We decided to take a chance to try this program and the program has just been wonderful from the get go. " He hired Nasir Hussaini 4 years ago. Hussani, 20, is now getting ready to be a senior at Southridge High School. Hussaini is in the life skills class, and when he's not in school, you can most likely find him at the golf course.
Johnson says most of the life skills students don't care if they're paid or not and are just happy to have something to do. They'd rather work than sit around and watch TV, she says. It's also tough for parents during the summer or after school. Hussaini isn't paid right now, but he says he doesn't mind. He says, "I never get paid, it's ok. I just come in here and work with him (Lacy). He's a great guy."
Lacy and Hussaini are like two peas in a pod, filling in div its or raking out sand traps together. Hussaini even learned how to drive some of the carts they use to haul gear and maintenance supplies around the course. Lacy says, "With the skills he's going to learn here, it's one of those things where I can make recommendations for him to go elsewhere if he decides, but I'd really like to keep him here."
Lacy says he hopes to be able to hire Hussaini full time and pay him once he graduates from Southridge next year.
If you're interested in hiring or working with one of these life skills students, call Dawn Johnson 396-4075 or e-mail her at dawn.johnson@ksd.org.