Robbery suspects caught, plus man wanted for shooting
Posted:
Updated: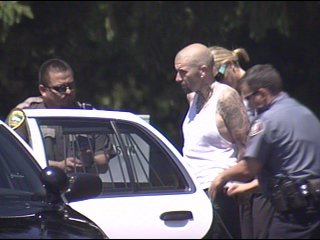 YAKIMA, Wash. -- An armed robbery in Selah nets Yakima Police a shooting suspect. Around 11:30 Tuesday morning four men robbed a home in Selah taking cash, drugs and a gun.
A Yakima Sheriff's Deputy spotted the suspect vehicle, then two of the men took-off on foot near 34th and Castlevale.
"I mean he was high tailing it and then within seconds there was a cop there and that's when they told us that there'd been a robbery out in Selah," said Elaine Ozanne, witness.
Ozanne saw Chris Schill as he ran to the Pear Place Apartments, a clean and sober housing complex. Schill is not a resident, but knew someone living there. Neighbors and witnesses helped police learn the suspects identity. When Schill refused to come out of the apartment SWAT was called in.
"A home invasion robbery is one of the highest levels of crime we'll respond to as law enforcement, number one. Number two early on we had a pretty good idea who we may be dealing with and this was an individual wanted for a shooting in Yakima as well. So this is a guy that's right at the top of the list that we wanna take off the street," said Lt. Mike Merryman, Yakima Police Department.
Another man was taken into custody a few blocks away, he was hiding in a garage. Plus, the two people arrested at the car. Schill will likely be charged by YPD for first degree assault for the shooting, plus the robbery charges out of Selah.
The other three suspects have not been identified.